Dive Professional Career
Take your Scuba Diving to the next level and make it a career! Here is your way to becoming a Divemaster and then all the way up to an Instructor Trainer!
Dive Guide
The Dive Guide program gives you the skills and experience required to safely lead groups of certified divers, and is the first step towards an exciting career as a Dive Professional without requiring you to complete an instructor program. You can, guiding dives in a variety of environments and conditions. You will earn the SSI Dive Guide certification after completing this program. Read more about the Dive Guide program here!
Divemaster
To enroll in our Divemaster program you must be a Certified Dive Guide and have taken the specialty course Science of Diving. The Dive Masters can assist Instructors with pool/confined water and open water training under the direct supervision of an Instructor. After you are certified you can teach Scuba Skills Update, Snorkeling and Try Scuba (pool only) and you can even upgrade to Training Specialist where you can teach specialities such as Night or Wreck Diving – a further step at your career ladder.

Assistant Instructor (AI)
This program provides the skills, concepts, and teaching experience required to become a successful SSI Instructor. You will learn the SSI Teaching System and philosophy, how to assist Instructors in training and how to independently teach a variety of SSI training programs. Candidates who complete this program can earn the SSI Assistant Instructor rating. Read more about the Assistant Instructor Program here!
Open Water Instructor (OWI)
After achieving the Assistant Instructor rating, you can enroll in the Instructor Training Course. On successful completion you can attend an Instructor Evaluation. Passing earns you the Open Water Instructor. You can teach and issue certifications for Open Water Diver, Advanced Adventurer and other programs. Read more about the Instructor Program here!
Speciality Instructor (SPI)
After your Open Water Instructor, you can start working towards Specialty Instructor. You can qualify by attending Specialty Instructor Seminars or co-teaching Specialty Programs with a qualified instructor. If you already hold Specialties as a Training Specialist, they will be automatically upgraded to Specialty Instructor.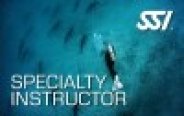 Advanced Open Water Instructor (AOWI)
Simply qualify for a total of four Specialty Instructor ratings, issue 15 Specialty certifications and you automatically upgrade to the Advanced Open Water Instructor. You are now qualified to teach the Snorkel Instructor program, plus any other Specialties you are qualified to teach.
Divemaster Instructor (DMI)
As Advanced Open Water Instructor you are eligible to become a Divemaster Instructor. This is an important step in the continuation of your Dive Professional career! As a Divemaster Instructor you are qualified to issue Science of Diving, Dive Guide and Dive Control Specialist/Divemaster certifications.

Call us 602-245-1641 for more information!